Activities
3 Perfect Days In Chicago
Most first-time visitors to the Windy City are stunned by how much there is to do. The sheer scale and size of the city surprises visitors flying in from out-of-town, stopping by on a Midwest road trip, or making their way in for business travel — and often leaves them wishing they had more time to explore. After all, from world-class museums to distinctive gastronomic indulgences and sophisticated nightlife, there's no shortage of experiences to be had during a three-day getaway to Chicago.
The truth is, there will always be more to do than you have time for in this bustling metropolitan hotspot. But to get a taste of Chicago, make the most of your 72 hours by visiting some of the city's favorites, each easily accessible from the Fairmont Chicago, Millennium Park.
Day 1: Magnificent Museums and Blues-y Nights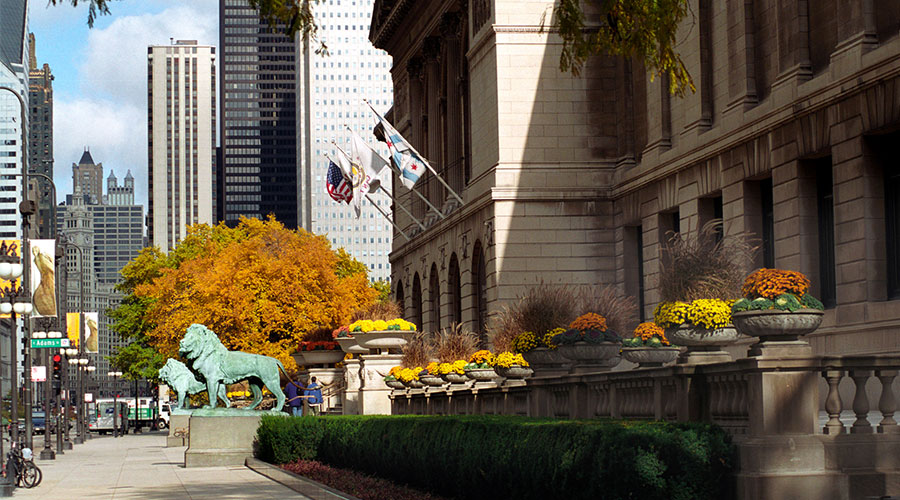 If you're an art lover, there's no better place to start than the Art Institute of Chicago. Lined with works by Andy Warhol, Rubens, Rembrandt, Picasso, Cassatt, Degas, Monet, and more, this is the place to come. Edward Hopper's infamous Nighthawks is here, as well as A Sunday on La Grande Jatte by Georges Seurat, Vincent van Gogh's The Bedroom, and Grant Wood's American Gothic. Favorites also include Monet's Water Lilies 1906, Paris Street; Rainy Day by Gustave Caillebotte, and Marc Chagall's America Windows.
Afterwards, refuel with a slice of classic deep-dish pizza at Lou Malnati's (which requires a fork and knife, since it's thick like a cheesy piece of pie).
If you're traveling with kids, head over to the Shedd Aquarium in the afternoon to marvel at beluga whales, penguins, and jellyfish, or take a cab ride north to Lincoln Park to the Peggy Notebaert Nature Museum, which is known for its expansive indoor butterfly exhibit. Then, visit the 35-acre Lincoln Park Zoo, home to over 1,000 animals (including giraffes, zebras, and more).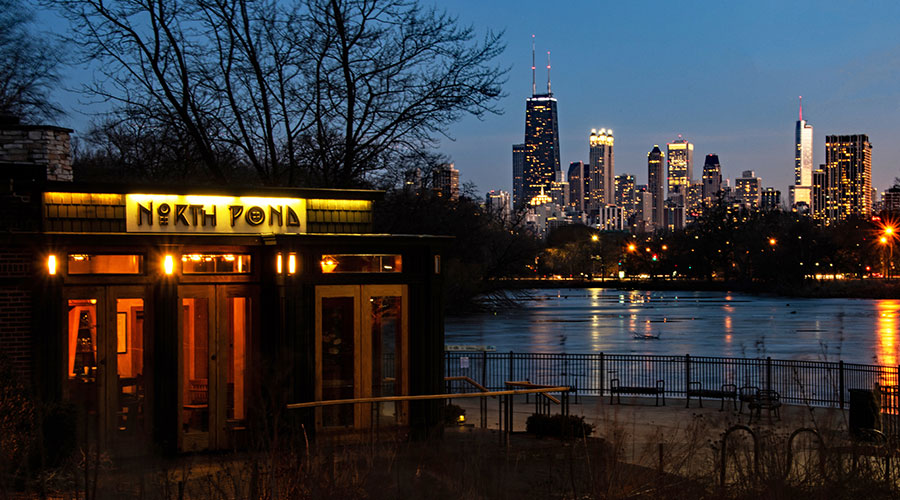 For dinner, have a farm-to-table meal at Lincoln Park favorites like the upscale, Michelin-starred North Pond or Blue Door Farm Stand, known for its approachable take on locally sourced comfort fare.
Then enjoy a night out at Kingston Mines, a local blues club that alternates band sets between two rooms. Sit at one of the narrow strips of tables, or experience an up-close-and-personal dance floor that gets increasingly packed the later it gets. (No matter your age, you'll fit in.) For a more intimate spot, head to B.L.U.E.S for electric guitar-filled Chicago blues in a cozy, dive-bar atmosphere. There's also the New Orleans-inspired Buddy Guy's Legends, home to up-and-coming acts as well as Buddy Guy himself, who performs here every January. You're sure to hear the song "Sweet Home Chicago" at least once during the night.
Day 2: Action-Packed Parks and Posh Shopping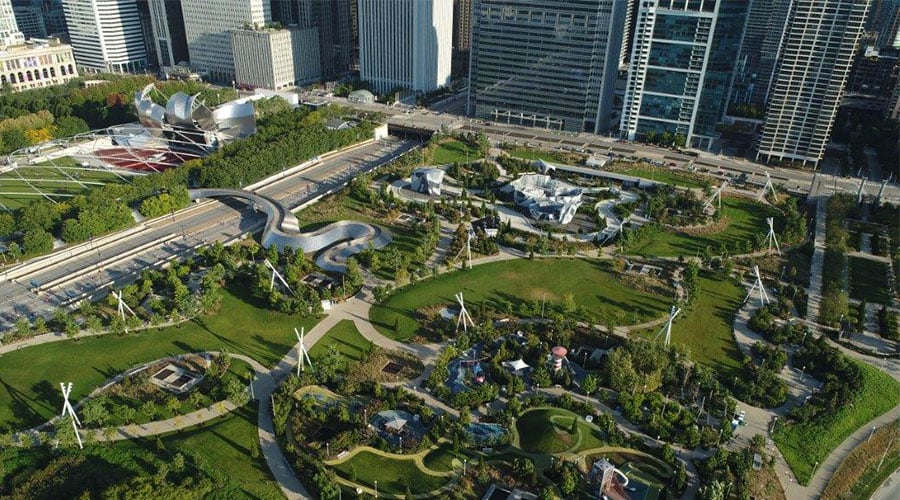 Explore urban life in Chicago by visiting some of its best-known attractions: Millennium Park and shopping along the "Magnificent Mile."
Start by visiting "The Bean" (officially called Cloud Gate) in Millennium Park. This metallic, interactive sculpture designed by Anish Kapoor surprises all who walk through it — it feels like being inside of a funhouse, which makes it an iconic spot for creative photos.
The park is divided into various sections (like outdoor rooms). In the winter, rent skates or people watch at the rink at McCormick Tribune Plaza, which doubles as an open-air space to eat in warmer months. Year-round, swing by the Crown Fountain, a work of public art that displays a rotation of 1,000 LED faces glowing through glass block towers (they also spurt water from their mounts in the warmer months). You can also wander through Lurie Garden, an urban oasis of prairie landscapes and pollinators. Finally, see the Jay Pritzker Pavilion, designed by architect Frank Gehry. Its crisscrossed weave of steel pipes create a surround-sound experience.
After a morning at the park, grab a Chicago-style beef hot dog complete with mustard, pickle relish, chopped onion and tomato, a pickle spear and celery seeds on a poppy seed bun. (In true Chicago fashion, don't bother asking for ketchup.) Then walk over the serpentine BP Bridge, which connects Millennium Park to the 20-acre Maggie Daley Park. In the winter, you'll find a skating ribbon that weaves around a climbing wall, as well as a warming area to rent skates. There's also a three-acre play garden geared towards children 12 and under with different dedicated zones including a suspension bridge, metal ship, talking tubes, and viewing scopes.
For some retail therapy, wander north along Michigan Avenue — also called the Magnificent Mile — from Millennium Park and shop for blocks. As you cross over the Chicago River, you'll see the iconic Beaux-Arts Wrigley Building across from the Tribune Tower, with its collection of world history embedded into its façade (including pieces of stone from Westminster Abbey and the Great Wall of China).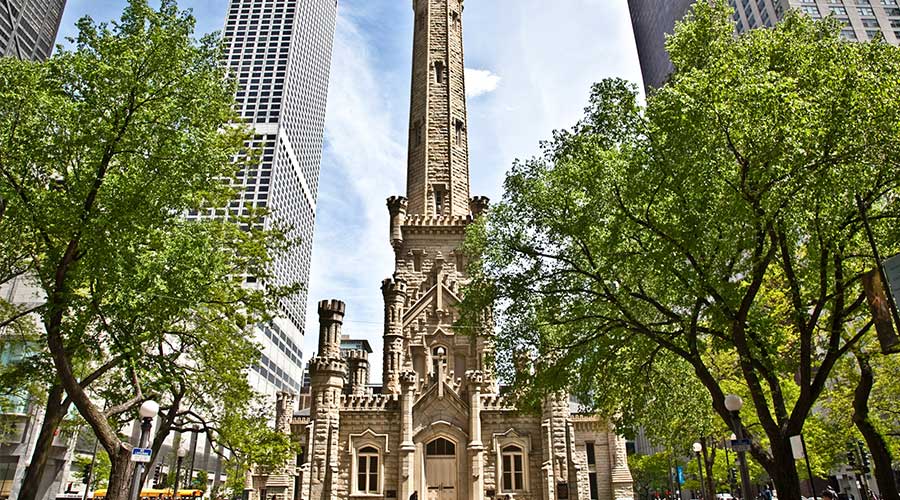 Visit the new 43,000-square-foot, four-story Starbucks Reserve Roastery Chicago — the largest of its kind in the world — for a quick pick-me-up, and between shopping destinations, stop at the historic Chicago Water Tower and Pumping Station. Perched right on Michigan Avenue, it was one of the few buildings left after the Great Chicago Fire of 1871 destroyed most of the city.
As dinnertime rolls around, you'll find that Chicago is one of the few cities where you can find any cuisine in the world, from fragrant Ethiopian to classic French. It's a foodie haven where dining at Michelin-star restaurants can be theatrical performances that often require tickets, sometimes months in advance.
Chicago's legacy as a stockyard haven might have something to do with this, but the city is especially renowned for its steakhouses. Gibson's is one of the most well-known, but there are more than a dozen high-quality options within walking distance to indulge in your cut of choice, including Maple & Ash and Tavern On Rush.
Finish out the night with tickets to a Broadway show — the Cadillac Palace Theatre, CIBC Theatre, Chicago Theatre, James M. Nederlander Theatre (previously called the Oriental Theatre), and Broadway Playhouse have a rotation of acts ranging from Hamilton to Phantom of the Opera. You can also catch an artsy film at the Gene Siskel Film Center.
Day 3: Explore from Shore to Skyline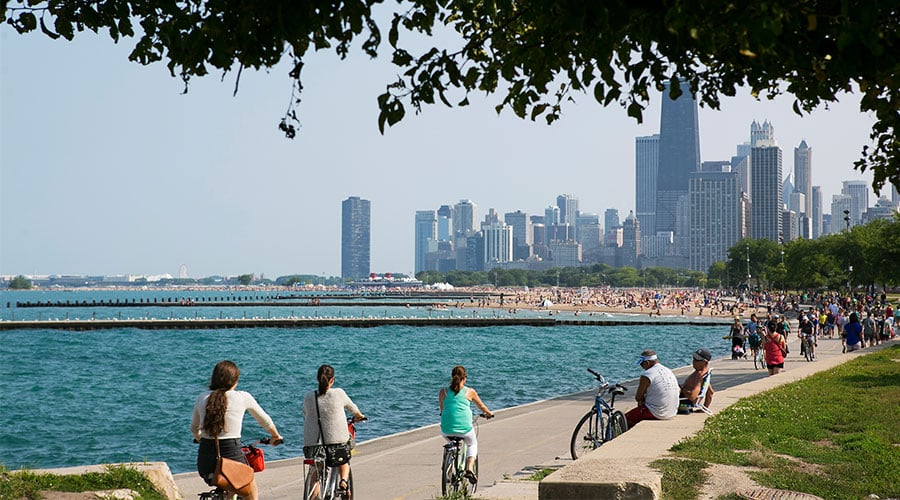 While Chicago isn't known to many visitors for its surf and sand, this might be the city's best-kept secret — it has more than 20 beaches, 26 miles of lakefront shoreline, and a massive lakefront trail that many like to walk, run, or bike. Lake Michigan is one of the largest freshwater lakes in the world, so it feels more like an ocean, since you can't see the other side.
One of the best views is from the end of Navy Pier. Once home to soldier barracks and a Red Cross station during World War I and fighter pilots during World War II, Navy Pier is now one of the top places to visit. It's massive and can take a while to explore — start by riding the nearly 200-foot Centennial Wheel, then go inside and wander through shops, bars, and restaurants.
Grab a bag of Garrett Popcorn's famous cheddar-and-caramel popcorn mix, then head to the Crystal Gardens, a one-acre indoor botanical garden filled with palm trees and jumping water fountains. You can also embrace your inner kid and check out Amazing Chicago's funhouse maze, go on a virtual reality 4D VR adventure at Pulseworks, take in an IMAX show, or see a performance at the Chicago Shakespeare Theater. Navy Pier is also home to Chicago Children's Museum, where kids can dig up dinosaur bones, tinker with STEM toys, or do an art project.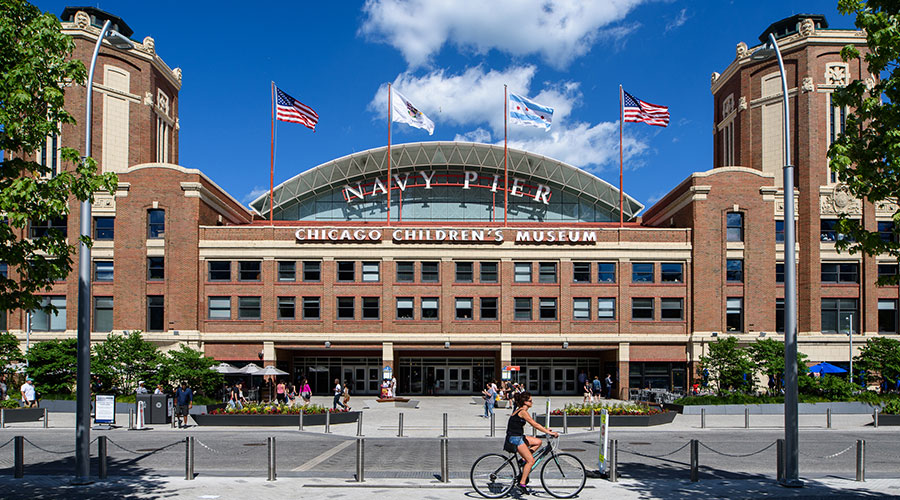 Just a short distance from the pier, your next stop is the John Hancock Building, where you can get a view of Chicago's skyline and Lake Michigan from 1,000 feet in the air at 360 Chicago, an observation deck on the 94th floor.  If you're seeking a thrill, try the TILT, where you hold on to handlebars before tilting out from a window over Michigan Avenue.
For dinner, tuck into scratch-made Italian food at Volare Ristorante Italiano, get an innovative taste at the Michelin-starred Spiaggia, or eat at the more intimate Acanto, a casual Italian restaurant in a Louis Sullivan-landmarked building, known for its wine list as much as the food.
Close out the night with smooth notes at Winter's Jazz Club, an unpretentious newcomer in Chicago housed in a warm setting. Or, if you're feeling adventurous, head north to the Green Mill, a prohibition-era speakeasy that Al Capone used to frequent. And if you want something more raucous, get in some laughs at The Second City, a comedy club known for its improv and its famous alums ranging from Tina Fey to Jim Belushi.
Regardless of what you do, by the time you'll have to leave, Chicago will leave you wanting more — all the more reason to plan your next stay at the Fairmont Chicago, Millennium Park.