Lakeshore
How to Spend a Snow-Capped Winter Getaway in Chicago
In some cities, the transition from summer sunshine to winter bluster means only one thing: hibernation. But make no mistake — Chicago is not one of those cities. When travel and leisure in other northerly destinations is catching a chill, in the Windy City, it's heating up.
Not only is it less crowded, it's also beautiful. A winter wonderland made of concrete, steel, and frost, Chicago in the winter is a tapestry of snow-capped buildings towering over Lake Michigan. At their base is a vibrant town that's flush with year-round attractions and activities, many of which are located downtown near the Fairmont Chicago, Millennium Park. Its central location means you won't have to walk far in order to reach the city's best sights, no matter the weather conditions.
In fact, you won't have to walk at all, as Chicago is teeming with trains, buses, taxis, and ridesharing services that can transport you quickly (and warmly) from point A to point B. You can also escape the weather altogether thanks to one of Chicago's best-kept secrets: the Chicago Pedway, an underground network of pedestrian tunnels that connect the Fairmont Chicago with downtown stores, restaurants, transit stations, and more.
Cozy up to a winter getaway in Chicago with these can't-miss cold-weather itinerary items.
Explore World-Class Museums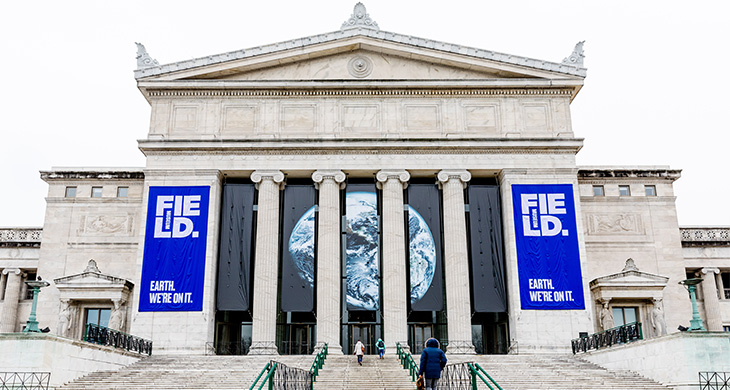 A chilly winter afternoon is the best kind of day to spend at one of Chicago's many distinguished museums. Just a stone's throw from the Fairmont Chicago is The Art Institute of Chicago, which is home to famous paintings including Grant Wood's "American Gothic," Vincent van Gogh's "The Bedroom," Pablo Picasso's "The Old Guitarist," and Edward Hopper's "Nighthawks," just to name a few. This winter, there's also a must-see special exhibit featuring the work of Andy Warhol, called Andy Warhol: From A to B and Back Again, which runs through January 26th, 2020.
If you prefer science to art, head to the Museum Campus, which is home to three magnificent institutions: the Field Museum for natural history buffs, the Adler Planetarium for astronomy aficionados, and the Shedd Aquarium for aspiring marine biologists.
Check out the Chicago Children's Museum at Navy Pier if you have kids in tow, or try one of the city's lesser-known gems, like the Museum of Broadcast Communications, the American Writers Museum, or the Chicago History Museum.
Marvel at Renowned Architecture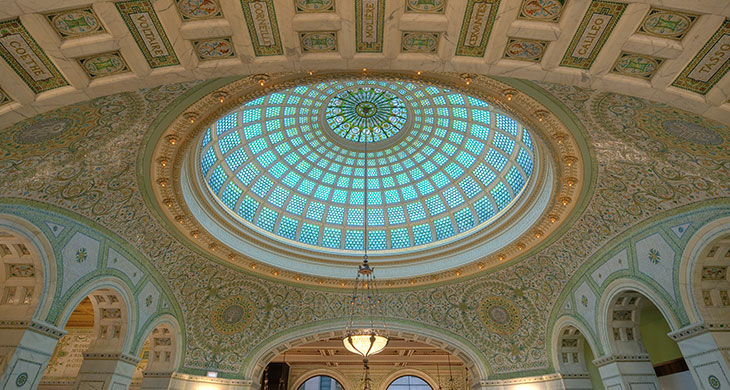 Chicago is one of the world's most beloved architectural destinations — in fact, it was home to the world's first-ever skyscraper, the Home Insurance Building. Though this structure is no longer standing, landmarks by esteemed architects including Louis Sullivan, Daniel Burnham, and Frank Lloyd Wright remain.
Just as impressive in the snow as they are in the sunshine, highlights include Chicago's neoclassical City Hall and County Building, the post-modern James R. Thompson Center, and the Beaux Arts Chicago Cultural Center, which is home to the world's largest Tiffany-stained glass dome. Along with many other significant local buildings, all three are located within blocks of the Fairmont Chicago and accessible via the Chicago Pedway.
For an in-depth overview, the Chicago Architecture Center knows all the city's best structural secrets. While its boat tours on the Chicago River are summer favorites, their bus and train tours are just as captivating in the colder months.
While you're taking in the city's aesthetic, be sure to bundle up and visit its many public art installations, including the unnamed Picasso sculpture in Daley Plaza and "Cloud Gate" in Millennium Park. And for the ultimate bird's-eye view, make your way up to the Skydeck Chicago at Willis Tower, or for a rival vantage, guests can head to the Fairmont Gold Lounge on the 15th floor of the Fairmont Chicago.
Dig into a Dynamic Dining & Brewery Scene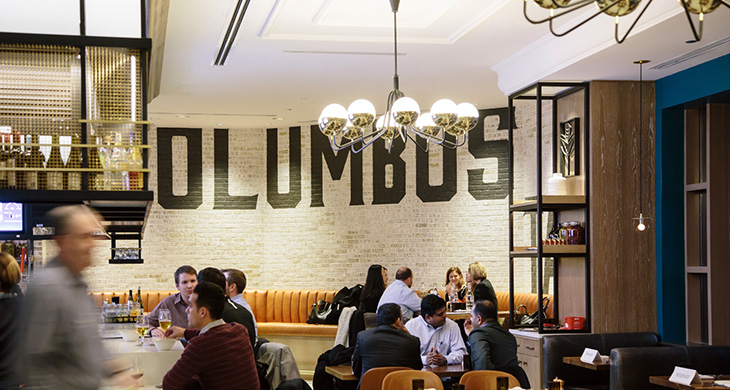 Chicago's food scene is one of the country's best, and there's no better time to discover its epicurean gems than winter. Start by tasting the city's signature dishes: Head to Lou Malnati's Pizzeria or Giordano's for deep-dish pizza, Portillo's or Al's Italian Beef for Italian beef sandwiches, and The Wiener's Circle for a Chicago-style hotdog.
For a meal that's foodie-approved, visit during Chicago Restaurant Week, which takes place from January 24th to February 9th, 2020. During the annual event, diners can enjoy special prix fixe menus at nearly 400 restaurants throughout Chicago and its nearby suburbs.
You can also head to one of downtown's popular food halls, which feature miniature outposts from many of the city's favorite chefs and restaurants. Popular choices include Chicago French Market, Revival Food Hall, and Wells Street Market.
Because the perfect complement to good food is good beer, a trip to one of Chicago's many breweries also is in order. Favorites include Revolution Brewing, Half Acre Beer Company, Lagunitas Brewing Company, and Metropolitan Brewing. The Fairmont Chicago is also home to Columbus Tap — the signature gastropub has a huge selection of beers on tap and specializes in local Midwestern brews.
Warm Up in Iconic Shopping Destinations
Along with countless boutiques scattered among Chicago's neighborhoods, there are two major shopping districts in downtown Chicago where you can warm up as you wander. First, take the Chicago Pedway to State Street, whose anchor, Macy's State Street, occupies the historic Marshall Field and Company Building, which dates back to 1907. It's known for its Christmas traditions, including can't-miss holiday window displays and the grand Christmas tree in its restaurant, The Walnut Room. Across the street, check out Block 37, which offers an entire city block of shopping, dining, and entertainment.
After browsing State Street, head a few blocks east to Michigan Avenue, known as the Magnificent Mile. Here, you'll find more than 460 retailers — be sure to check out Water Tower Place and, if you like coffee, the immersive Starbucks Reserve Roastery Chicago (debuting in mid-November, it will be the world's largest Starbucks).
Enjoy the City's Top Entertainment & Activities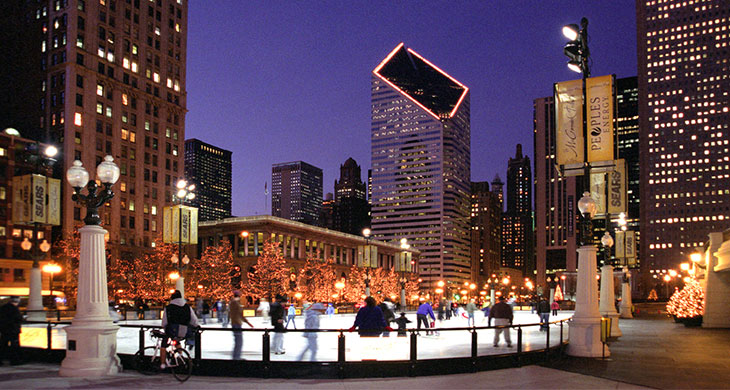 Chicago's sprawling entertainment scene includes two kinds of options: Ones that allow you to embrace winter if you love it, and escape it if you loathe it.
If winter is your favorite time of year, lace up a pair of ice skates at Millennium Park's McCormick Tribune Ice Rink or the Skating Ribbon at Maggie Daley Park, both of which are near the Fairmont Chicago. You can also rent snowshoes and go "snowtrekking" at Chicago's Northerly Island, or slide down a 33-foot-tall sledding hill at Soldier Field.
If you'd rather stay toasty, skip the outdoor fun and head to a game or a show. Winter in Chicago is basketball and hockey season, so you can see the Chicago Bulls or the Chicago Blackhawks play at the United Center. Not a sports fan? Grab tickets to a play or musical in Chicago's downtown Theatre District (catch Hamilton before it leaves on January 5th, if you can).
You can also take a vacation within a vacation by visiting the Lincoln Park Conservatory or Garfield Park Conservatory, where it's spring all year round. Or better yet, catch some island vibes at one of the city's beloved tiki bars, Three Dots and a Dash or Lost Lake.
No matter where your getaway takes you, there's no question about it: Even when Chicago temperatures drop, there are endless ways to discover all that this lively metropolis has to offer. Just bring your winter coat, the city will do the rest.